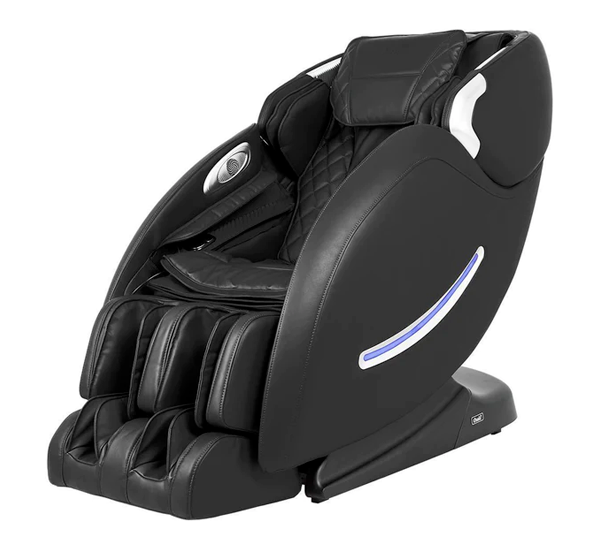 Osaki OS 4000XT Massage Chair
Original price
$4,799.00
-
Original price
$4,799.00
Lease for as low as $/week
Learn More
The Osaki OS-4000XT massage chair with LED light control features an L-Track system with 2 step zero gravity, 6 auto programs, and an Ache Sensor. The Ache Sensor detects the aching point of user's body once the arms are inserted into the sensor naturally in the armrest. 
*Floor Models*
FEATURES: 
L-Track Massage
As the roller system massages the neck area, it continues through to the lower back and then proceeds to massage the glutes and upper hamstrings.
Ache Sensor
The Ache Sensor detects the aching point of user's body once the arms are inserted into the sensor naturally in the armrest. 

Full Body Airbag massage
There are multiple airbags located throughout the massage chair to offer a full body massage experience. The 4000XT offers a total of 24 airbags in the massage chair. Airbags are located at the shoulders, arms, feet, and the calf areas. This compression massage helps to continue increasing blood circulation throughout the body to relieve pain and tension.
Unique Foot Roller Massage​
OS- 4000XT has one spinning reflexology massage roller located on the bottom of the feet, providing a soothing kneading style application. As the rollers spin it will stimulate acupuncture points and as the air bags inflate it will generate a much deeper massage along the bottoms of your feet.
Two Step Zero Gravity Mode​
Inspired by NASA technology, the Zero gravity position is the perfect position to enjoy a massage, aligning your back relative to your thigh at an optimal level of comfort. When reclined into the zero-gravity position, the complete weight of your back is virtually supported by the backrest which maximizes the intensity of the massage.
6 Auto Massage Program, 6 Massage Styles
The OS-4000XT has 6 different auto massage programs. Neck/Shoulder, Strengthen, Relax, Thai, Recover and Sleeping and comes with a manual mode so you can pinpoint a desired massage for a specific area on your body. OS-4000XT can perform Kneading, Tapping, Swedish, Clapping, Rolling and Shiatsu. You can either pinpoint a specific spot on your back for the massage or massage by sections of the body.

Space Saving Technology
Osaki's innovative design team has engineered a space saving technology that slides the chair forward as the chair reclines. As a result, the OS-4000XT takes only 2 inches to get to the fully reclined position.
AND MANY MORE
It has so many more features such as heat on lumbar, easy to use LCD remote, built in Bluetooth speakers, and manual massage setting.
MAXIMUM WEIGHT: 220lbs
Minimum Door Width 31"
These are Open Box Units
Apply Now with no impact to your credit score
See if you pre-qualify with no impact to your credit. https://www.mysynchrony.com/mmc/GY209692207
DIMENSIONS:

Upright Dimensions: L60.6" X W28.8" X H44.5" | Reclined Dimensions: L70.9" X W28.8" X H37.0"